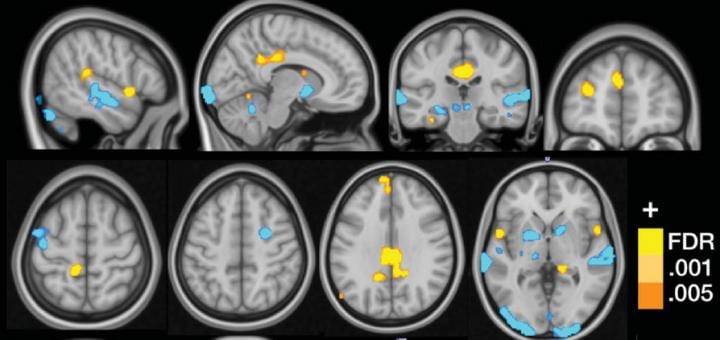 Press Release:
University of Colorado Boulder researchers have discovered a brain signature that identifies fibromyalgia sufferers with 93 percent accuracy, a potential breakthrough for future clinical diagnosis and treatment of the highly prevalent condition.
Fibromyalgia is commonly defined as chronic widespread musculoskeletal pain accompanied by symptoms such as fatigue, anxiety and mood disorders. The Centers for Disease Control and Prevention (CDC) estimates that fibromyalgia affects more than five million adults annually in the U.S., with significantly higher occurrence rates in women than in men.
Historically, fibromyalgia has been difficult to diagnose and treat due to a lack of a well-categorized tissue pathology and symptoms that overlap with other common chronic illnesses.
CU Boulder researchers used functional MRI scans (fMRI) to study brain activity in a group of 37 fibromyalgia patients and 35 control patients as they were exposed to a variety of non-painful visual, auditory and tactile cues as well as painful pressure.
The multisensory testing allowed the researchers to identify a series of three sub-markers, or neurological patterns, that correlated with the hypersensitivity to pain that characterizes fibromyalgia.
"The novelty of this study is that it provides potential neuroimaging-based tools that can be used with new patients to inform about the degree of certain neural pathology underlying their pain symptoms," said Marina López-Solà, a post-doctoral researcher in CU Boulder's Cognitive and Affective Control Laboratory and lead author of the new study. "The set of tools may be helpful to identify patient subtypes, which may be important for adjusting treatment selection on an individualized basis."
The findings were recently published in the journal PAIN, published by the International Association for the Study of Pain.
"Though many pain specialists have established clinical procedures for diagnosing fibromyalgia, the clinical label does not explain what is happening neurologically and it does not reflect the full individuality of patients' suffering," said Tor Wager, director of the Cognitive and Affective Control Laboratory. "The potential for brain measures like the ones we developed here is that they can tell us something about the particular brain abnormalities that drive an individual's suffering. That can help us both recognize fibromyalgia for what it is – a disorder of the central nervous system – and treat it more effectively."
If replicated and expanded upon in future studies, the results could eventually provide a neurological road map to brain activity that would inform diagnosis and therapeutic interventions for fibromyalgia.
"This is a helpful first step that builds off of other important previous work and is a natural step in the evolution of our understanding of fibromyalgia as a brain disorder" said López-Solà.
Advertisement:
Bestseller No. 1
Sale
Bestseller No. 2
Bestseller No. 3
Tender Points: A Fibromyalgia Journey
Amazon Prime Video (Video on Demand)
Lina Alvarez, Dr. Paul St. Amand, Seri DeYoung (Actors)
Seri DeYoung (Director) - Seri DeYoung (Writer) - Lina Alvarez (Producer)
English (Playback Language)
English (Subtitle)
Bestseller No. 4
Bestseller No. 5
Nature's Sunshine Fibralgia 90 Capsules
From the world leader in herbs and health supplements
A high quality product that meets pharmaceutical standards
Tested for consistency, quality and potency
The highest quality herbal, vitamin, mineral, and nutritional supplements worldwide
Achieve your health related goals!
Bestseller No. 6
Hummingbird Holding Purple Ribbon Fibromyalgia Awareness T-Shirt
Hummingbird Holding Purple Ribbon Fibromyalgia Awareness T-Shirt. Fibromyalgia Awareness Shirt for women, men, kids, dad, mom, husband, wife, hummingbird lovers, hippie, son, daughter who is fighting lupus
Wear this purple ribbon shirt to spread awareness and believe you can tackle fibromyalgia. This Fibromyalgia Warrior Shirt is a great support gift for fibromyalgia warriors, fighters & survivors. Great to wear on Fibromyalgia Awareness Day on May 12
Lightweight, Classic fit, Double-needle sleeve and bottom hem
Bestseller No. 7
Bestseller No. 8
MagniLife Fibromyalgia Support, Fast-Acting Relief for Arthritis, Muscle Aches, Pain and Fatigue, 125 Quick Dissolve Tablets (Packaging May Vary)
HOMEOPATHIC RELIEF - Pain & Fatigue Relief Tablets may help soothe symptoms of fibromyalgia such as constant aches and pains, stiff joints or sore muscles that may be leaving you exhausted and fatigued. This unique formula made with homeopathic medicines helps to eliminate the body pain that is holding you back.
RAPID RELEASE, FAST-ACTING - Quick dissolve tablets provide rapid relief.
NATURAL PAIN RELIEF WHEN YOU NEED IT MOST - For the temporary relief of acute, widespread pain in the shoulders, back, neck, arms, and legs.
SAFE & EFFECTIVE - May be taken alone or with other OTC or prescription medications, has shown no known side effects. Not intended to treat or cure fibromyalgia but can help with the symptoms.
TRUSTED BRAND WITH YOU IN MIND - MagniLife has been a trusted business for over 20 years. All of our products are developed and manufactured in our state-of-the art facilities. Made with highly qualified formulators to ensure excellence in quality and consistency, we ensure top quality products and are dedicated to providing products that help to improve quality of life. Start your journey to a healthy lifestyle today!
Bestseller No. 9
Fibromyalgia For Dummies
Amazon Kindle Edition
Staud MD, Roland (Author)
English (Publication Language)
476 Pages - 10/22/2007 (Publication Date) - For Dummies (Publisher)
Bestseller No. 10
Fibromyalgia Relief for Temporary Relief of Muscle Soreness Discomfort Tenderness Difficulty Moving Joint Pain (1 Pack)
Fibromyagia Relief is made with 100% natural active ingredients address muscle soreness, nerve and tissue tenderness, difficulty moving, acute soreness, fatigue and discomfort stiff joints, acute soreness, Fatigue
This natural formula stimulates the body's natural ability to temporarily alleviate symptoms associated with Fiboymalgia such as widespread, unexplainable discomfort in your muscles, joints, ligaments and tendons. Other symptoms include, but are not limited to, fatigue, disturbed sleep, multiple tender points, difficulty moving as well as muscle and nerve pain.
Gluten free formula made in the USA
Made in the USA
Fast Dissolving Tablets quickly dissolve under your tongue in 30 seconds
I get commissions for purchases made through links on this website. As an Amazon Associate I earn from qualifying purchases.